Get the Most Out of Your Disney Dining Experience, Guaranteed!
For most of us, a Disney World vacation represents the kind of financial investment we can't afford to waste. You can drive yourself crazy worrying that you're going to have a bust of a vacation and have a big bill to show for it. The DFB Guide to Walt Disney World® Dining is here to help!
Be 100% Confident About Your Dining Decisions
Wouldn't it be nice to have one of the biggest (and most expensive) parts of your trip resolved? To be able to feel 100% confident about your dining decisions? The DFB Guide to Walt Disney World® Dining is designed to make sure that in 24 hours you will be feeling great about your plans. And you'll have fun getting there.
Your Biggest Dining Concerns Resolved TODAY
This book is packed with hundreds of pages of tips and guidance, but it begins with a 5-step guide designed to get all your major worries out of the way. After that, you'll get page after page of great info that can help you plan and optimize your dining decisions.
Why a Downloadable PDF?
This product is only in digital form. Once you purchase you will immediately receive a link to download a PDF file hundreds of pages of great information. Why did I decide to make a PDF instead of a physical book? Several reasons:
You can get the book immediately and get started right away.
You can read it on your phone or iPad, which are much easier to carry into the theme parks than a 450-page book. Click here to see instructions to get the book on your iPhone, iPad, or Android device.
The format allows the inclusion of click-able links to invaluable web resources.
You can search the text of the book electronically, instead of wasting time flipping through indexes and pages.
I feel that 100% satisfaction is a must, and digital products are easier to return than physical books. Just send me an email and I'll refund your money, no questions asked.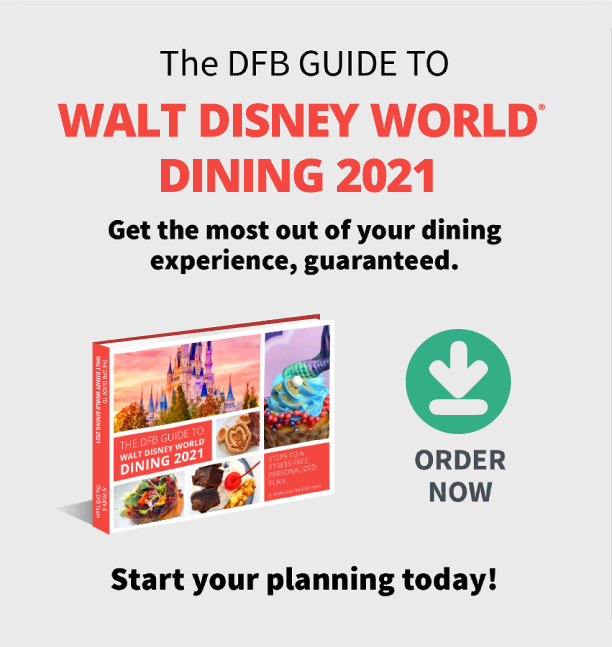 Get Expert Advice — Not Just a List of Restaurants
Choose your Disney restaurants with the help of 30 years of experience! Many Disney guidebooks treat dining as an afterthought. They simply list the restaurants and possibly offer a short description. The DFB Guide to Walt Disney World® Dining introduces each restaurant, shares honest and up-to-date reviews, and focuses just as much energy on the rest of your dining planning needs. We offer in-depth advice on the process and the details to make sure you have a great trip.
Sample Pages
Check out details and sample pages from our guides at DFBStore.com!
Money-Back Guarantee
If you don't feel the DFB Guide to Walt Disney World® Dining is worth the price, just let me know within 30 days and I'll refund your money. As you can see I'm very confident that you'll be thrilled with the guide and get many times your investment back in money savings, time savings, and more fun on your vacation.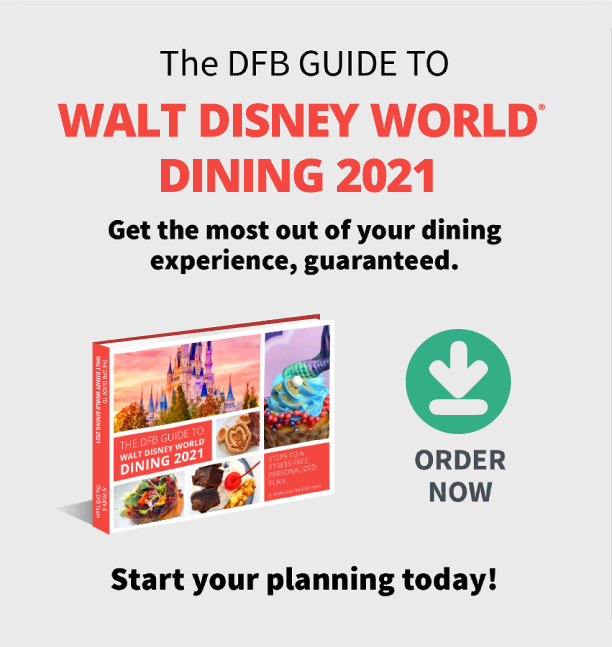 About the Author
AJ Wolfe has been writing about the food at Disney World for years, which represents the culmination of over two decades of research. She writes The Disney Food Blog, which reaches millions of unique visitors per month. Thousands of people read AJ's Disney dining advice every day, so you can feel confident that your plans are in safe hands.
AJ and the Disney Food Blog have been recommended/quoted by the New York Times; The Wall Street Journal; Parents, Redbook, and Family Fun Magazines; Frommers.com; USAToday.com; MSN.com; and other local and national media outlets. Her photographs have appeared on FoodandWine.com. AJ has also been interviewed on National Public Radio's "Good Food with Evan Kleiman" and on television about her expertise in Disney travel.
AJ and her team write yearly editions of multiple critically-acclaimed e-Books to help Disney vacationers get the most out of their visits.
Bonuses
If you order today, you'll get the following FREE Bonuses:
Four downloadable worksheets for planning your trip. These worksheets are designed to help you execute all the steps of planning the perfect Disney dining experience. And they're reusable for your next trip!
Seven sample one-day dining itineraries to help you with brainstorming. There are hundreds of dining options in Disney World. These examples, which are tied to particular theme parks, touring styles, and dietary needs, will help you get an idea of what a perfect dining day might look like for you and your family.
A comprehensive index of bars and lounges. Disney Food Blog readers were adamant that this be a part of the book and we were more than happy to oblige! An often under-appreciated option for both dining and entertainment, the e-Book devotes a whole index to the topic.
Combined with all the great information in the Guide, you'll have all the tools you need for successful planning.

More Reviewer Accolades
"If you've ever had a question about dining at Walt Disney World, AJ Wolfe's The Disney Food Blog Guide to Walt Disney World Dining has the answer. This comprehensive e-book is a valuable tool for both first-time visitors and Disney World veterans."
- Kristin Ford, Orlando Sentinel, The Daily Disney
"The book is easy to navigate, fun to read, and incites Pavlovian responses with its mouth-watering descriptions and images of Disney dishes. If you're heading to Disney World, you really should make a dining plan as part of your preparations. The DFB Guide is a comprehensive, invaluable plan-making resource."
- Arthur Levine, About.com/Theme Parks
"As someone who not only blogs about Disney, but is also a self-acclaimed Disneyphile, I've always found A.J.'s Disney Food Blog to be an incredible resource. I'm so happy that she is now offering this e-Book to complement the information available on her site! I will definitely be recommending this to my readers when they have Disney dining questions in the future."
-Amy Lupold Bair, Resourceful Mommy Media
"A few small differences in dining decisions can make or break your vacation. I don't know why anyone would spend thousands on their vacation and not invest in this book."